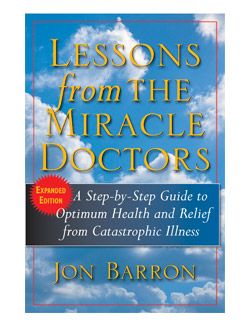 Have you read the world's leading health secrets book? Jon Barron's "Lessons from the Miracle Doctors" is loaded with secret health tips for complete nutrition, anti-aging, and optimum health.
Learn how to take back control of your health!

While modern medicine has made remarkable advances in terms of treating and preventing many chronic illnesses — heart disease, cancer, diabetes, and osteoporosis—modern medicine has still failed. Each year we spend more on health care, with little to show for it. Revealed in Jon Barron's health secrets book, there is an alternative.
Holistic healers, herbalists, and renegade medical doctors throughout the world are performing miracles on a daily basis. Thousands of people have come to these "miracle doctors" certain they were terminally ill and have left perfectly healthy. And now the health secrets of these miracle doctors are revealed in a step-by-step program that allows you to take back control of your health and well-being.
Finally, you will find these health secrets gathered in one health book—a program that integrates all of your body's biological systems into a cohesive whole. Outlined in "Lessons From The Miracle Doctors," the Baseline of Health® Program is designed to empower your own body to throw off illness and keep it from returning. Health tips in Barron's health book include:
Detoxification and cleansing strategies
Guidelines for healthy eating and supplementation
Balancing the body's systems to optimize function and fight disease
Specific treatments for heart disease, cancer, diabetes, and many other illnesses
It has often been said that the body you have is the only you will ever get, so it must last a lifetime—the only question is how long and healthy that lifetime will be. The simple fact is that you can live well into your seventies, eighties, and beyond, with great health and vitality—but you need to make the right decisions now.
Available from: