Colon Regenerator™ (formerly known as Colon Detoxifier) $34.95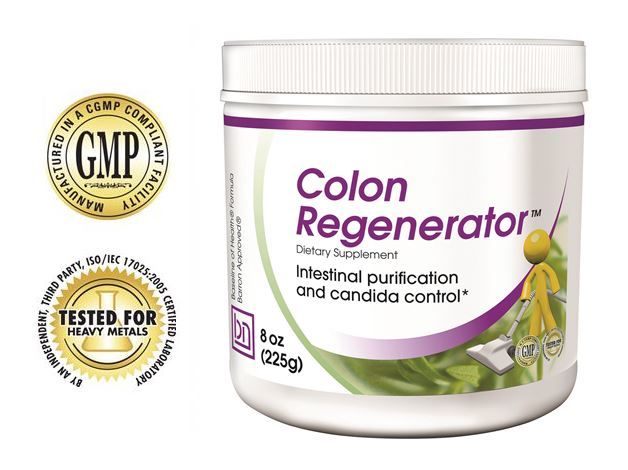 Not all colon cleansing products are the same. Our Colon Regenerator™ supplement absorbs all toxins, metals, fecal matter, drug residues, and more for natural colon cleansing.
For Natural Colon Cleansing & Candida Control:
Strong colon purifier and intestinal vacuum.
Calms inflammation and irritation of stomach & intestines.
Draws old fecal matter off colon walls & bowel pockets.
Controls Candida by reducing yeast overgrowth.
For a superior colon cleansing product, contains Apple Pectin, Pau d'arco & Licorice Root.
An intestinal purifier and colon detoxifier, this natural colon cleansing formula helps soften hardened fecal matter and draws waste from bowel walls and pouches for easy removal. It relieves straining, promotes regularity, and stimulates your body's natural healing and regenerating processes. Note: this health supplement contains Pau d'arco to specifically help control yeast overgrowth.*
Colon Regenerator™ is best used as part of our Intestinal Detox Maintenance Package.
Availability
This product was formerly available from BaselineNutitionals.net. But that site is temporarily closed. However...
Colon Regenerator was actually a fourth-generation descendant of the late John Christopher's original colon detoxification formula. Although his original formula does not contain montmorillonite clay or pau d'arco (two huge impact ingredients), it is still a quality formula. It will not provide all the benefits that you have come to expect from Colon Regenerator, but it should serve as a reasonable replacement for Colon Regenerator.
How to Use
Standard dosage of Colon Regenerator™ is 1 level scoop a day (equivalent to 1 level tbs) with 8 oz of diluted juice (best done by shaking in a small jar with a lid. Take on an empty stomach and then wait at least 30 minutes before eating any food.)
(Note: Although the Colon Regenerator™ is black in color, it has almost no taste -- a very mild licorice flavor in fact.)
Be sure to drink extra water throughout the day to lessen the likelihood of constipation.
Best if used with Colon Corrective™ to promote regularity during a natural colon cleanse.
Note: Can be binding if used on its own
Label