Accelerator™ $34.95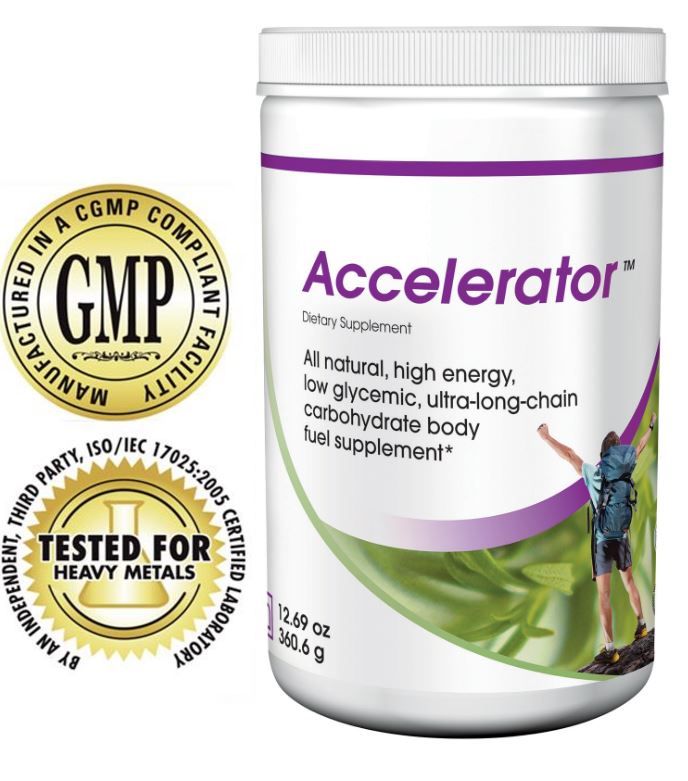 Need a healthy source of sustained energy? Then try Baseline Nutritionals'® Accelerator™. Unlike many natural body-fuel supplements, it gives you both smooth energy and nutrition for hours at a time, throughout the day.
Natural High-Energy Fuel:
Ultra long-chain carbohydrates from pre-sprouted barley for maximum energy yet minimal calories.
Long term satiety - keeps you feeling energized and satisfied for hours.
Banaba leaf and blueberry leaf help support your body processes that balance sugar metabolism.
Helps you manage weight, easily and sustainably.
Highly nutritious: packed with Wheatgrass Powder, Oat Grass, & Alfalfa Leaf.
Hundreds of naturally occurring antioxidants and phytochemicals to nourish the body.
A pleasant tasting shake whose primary virtue is sustained energy, making it perfect for an afternoon pick-me-up or to sustain an athlete on a long-distance run or when climbing a mountain. But by very virtue of its ability to sustain you for hours, it will help you lose weight by killing the need for between-meal snacks to keep you going throughout the day.*
Note: Each metabolized calorie of Activated Barley produces 400% more energy for the body than a standard fixed calorie.*
Availability
This product was formerly available from BaselineNutitionals.net. But that site is temporarily closed. To keep up-to-date on possible future availability, CLICK HERE.
How to Use
Suggested Use: 1 scoop (2 tbs) Accelerator™ in juice or blend as part of a smoothie and drink as a meal replacement shake. Use for 1 or 2 meals per day as desired. Eat sensibly at other meals.
Blend into a complete meal replacement shake, or take with juice or water. Here's a sample recipe:
1 scoop Accelerator™ Shake
4 oz juice
4 oz water
1 banana
1 handful frozen strawberries or raspberries
Creamy Piña Colada
Coconut meat and water from 1 large young white coconut
1 1/2 cups diced pineapple
1/2 tsp. stevia powder or 1 packet stevia
1 T. coconut butter
squeeze of lime juice
1 tsp. pure vanilla extract
dash of Himalayan sea salt
1 scoop Accelerator™
Put all ingredients into a high speed blender and blend until smooth.
*An alternative to the young coconut would be 1 1/2 T. of organic freeze dried coconut powder (Navitas Naturals is a good brand available online or in natural food stores), 1 1/2 cup water, and 1 1/2 oz. of organic creamed coconut (available in well stocked grocery stores and natural food stores.)
Label