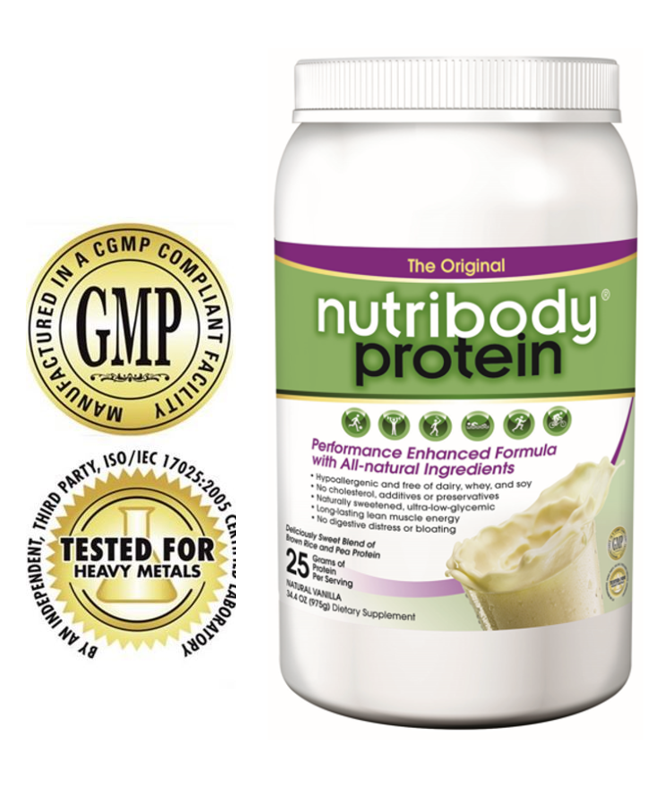 Nutribody Protein® is unlike any protein health supplement on the market. It is a non-soy, all vegetarian protein that has all the high protein benefits of a dairy/whey protein without the digestive side effects or cholesterol. It has all the natural health advantages of a soy protein, but Nutribody's vegan protein powder is a scientifically designed blend of rice and pea protein to offer higher Protein Efficiency Ratio, no allergies, and will not disturb hormone balances. Then we added a clinically proven, highly effective amino acid, Citrulline Malate, to optimize circulation and reduce fatigue. The end result is not just another protein, but Bio Digestible, nutrient-rich, high-performance, Nutribody Protein®.*
Benefits of Nutribody Vegan Protein Powder:
New and Improved: Now with ultra-low-heavy-metal, organic sprouted brown rice and certified organic pea protein. Lighter color and an enhanced natural vanilla flavor.
Provides high nutritional value of pure, easily digestible pea & rice protein with no gastric distress, bloating, carbs, sugar, or artificial sweeteners.
Increase protein in your diet, manage blood sugar and build muscle while losing body fat.
Sustain energy and reduce the total number of calories eaten in a day by curbing your appetite through long-lasting vegan protein.
Citrulline Malate to train harder, work out longer and speed up recovery time.
25g of healthy protein per serving for seniors, active adults, athletes, vegans, vegetarians, or for weight management of all ages.
Looking for the most nutritious, bio-digestible, hypoallergenic, vegan protein powder on the market? Then you have to try Nutribody Protein ®, complete rice and pea protein with no side effects.
Availability
This product was formerly available from BaselineNutitionals.net. But that site is temporarily closed. To keep up-to-date on possible future availability, CLICK HERE.