Super ViraGon® $34.95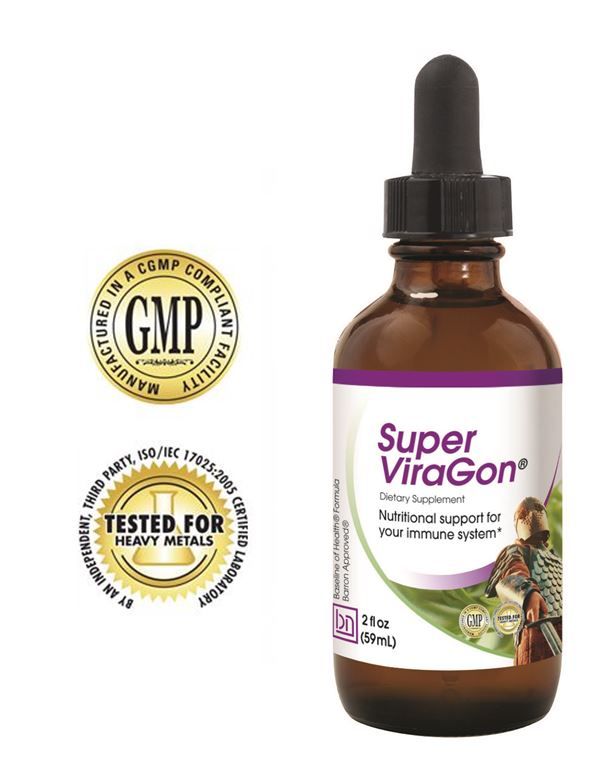 Need immune system support to help your body fight environmental challenges? Super ViraGon® is the strongest formula of its kind in the world.
Natural immune system support with the benefits of garlic:
Mixture of the most powerful ingredients found in nature to fight alongside your immune system.
Enhancing the benefits of garlic, this health supplement also contains olive leaf extract, oil of oregano, and liquid zinc.
Supports your body's fight against invaders to relieve your immune system of some of its burden.
Super ViraGon® is a natural health supplement that may help address and manage infectious challenges.*
Availability
This product was formerly available from BaselineNutitionals.net. But that site is temporarily closed. To keep up-to-date on possible future availability, CLICK HERE.
How to Use
Use 2-3 droppers of Super ViraGon® in 2 oz of juice as needed.
At the first sign of challenge, start taking Super ViraGon®. Take 3-10 droppers-worth every hour in juice. Tomato juice works great. (For supporting throat health, make sure you let it wash down the throat.) Keep taking Super ViraGon® until you finish the bottle.
For more substantial challenges, you will need to use more Super ViraGon® -- a bottle a day for the first 2-3 days, then 10 droppers a day for the next couple of weeks.
Take Super ViraGon® in conjunction with other immune system support formulas such as Immunify® and look for even quicker results!
Label