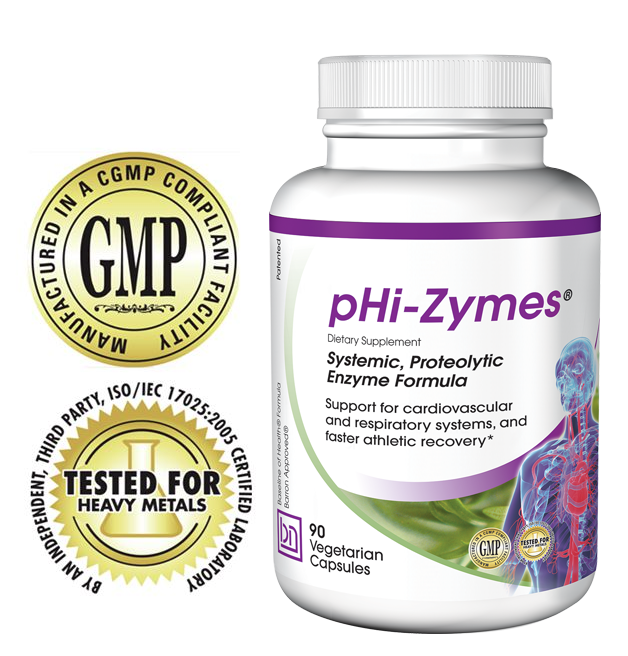 Looking to boost your cardiovascular health?
Then you have to try Baseline Nutritionals'® patented pHi-Zymes®. This is the world's most powerful, systemic proteolytic enzyme formula that includes Protease, Nattokinase, and Seaprose enzymes.
pHi-Zymes® Support Cardiovascular Health, Endurance, & Performance:
World's most powerful systemic proteolytic enzyme formula to help facilitate injury recovery.
Helps your body clean out and repair the cardiovascular system for health or athletic performance.
Reduces Circulating Immune Complexes that can lead to allergies and systemic inflammation.
Optimizes the quality of blood.
Helps with factors that can cause autoimmune disorders.
If you take a healthy dose of a wide ranging proteolytic (protein digesting) enzyme formula between meals, the enzymes can make their way into the blood stream with a broad array of potential health benefits. Proteolytic enzymes support the body's ability to systemically facilitate injury recovery in all soft tissue, clean out and repair the cardiovascular system, minimize the risk of blood clots, reduce scar tissue, digest fibroid cysts, and digest Circulating Immune Complexes, which helps reduce the symptoms of autoimmune disorders and allergies. For athletes, proteolytic enzymes can also improve performance and reduce recovery time. Note: this formula is so powerful, so unique, and so remarkable that it is patented. pHi-Zymes® are an absolute revolution in systemic proteolytic enzymes.* NOTE: Item cannot be shipped to Australia. 
Patented
Do not take: if nursing or pregnant, if you have history of an ulcer, or if taking blood thinners. Do not take days before having elective surgery.
Availability
This product was formerly available from BaselineNutitionals.net. But that site is temporarily closed. However...
This is probably the one formula that has generated the most requests for us to identify an adequate replacement, and I finally have one. In fact, when you check out the ingredients in the WellnessOne World ProOneZyme formula, it's easy to see that they modeled their formula on pHi-Zymes. Unfortunately, since pHi-Zymes are patented, they were not able to copy the CMIK-pH+™ Mineral Blend and instead used a tiny amount of trace minerals to look like they're trying. Bottom line: it won't work as well as pHi-Zymes, but it should still work well enough to be a reasonable replacement for pHi-Zymes.