Triple Jointed™ $89.95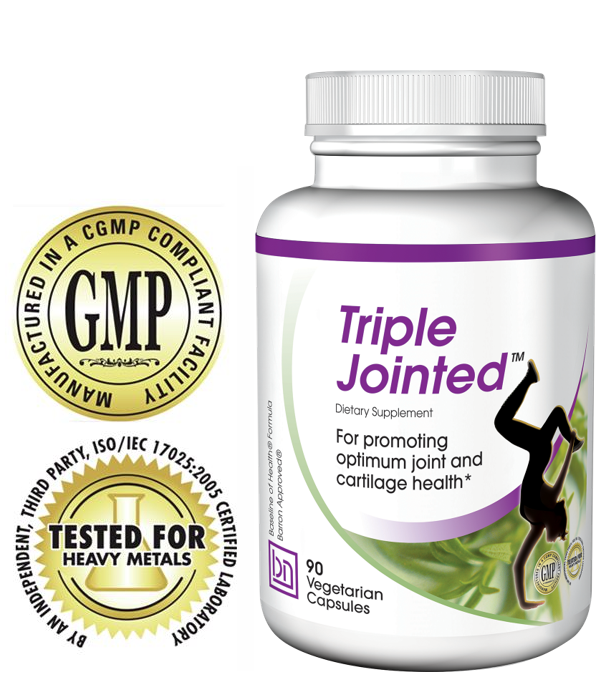 Looking for the ultimate joint formula to provide the nutrients your body needs for cartilage regeneration? Then you have to try Baseline Nutritionals'® Triple Jointed™.
Optimum Cartilage Regeneration & Joint Health Supplement:
This is the formula you want to use if glucosamine and chondroitin don't work for you.
Joint Formula to nutritionally support the growth of cartilage.
May help slow down and reverse the immune system's attack on joints and cartilage.
Nutritionally supports the reduction of joint inflammation.
Lubricates joints and muscles.
Contains Avocado Soy Unsaponifiables, Boswellin® PS**, & Undenatured Chicken Collagen.
This dietary supplement offers a five-pronged approach to systemically support your body's joints and provide nutritional support to help moderate the inflammation response.
CMO (cetyl myristoleate) to help lubricate the joints.
Avocado soy unsaponifiables to increase aggrecan levels and cartilage regeneration, thereby helping to repair and rebuild weight bearing joints. Boswellin® PS** to provide nutritional support to help moderate the inflammation response.
UC-II chicken collagen to nutritionally support the body's immune system so that it is less inclined to attack joint cartilage.
Ginger's nutritional support to help reduce pain and inflammation.
Availability
This product was formerly available from BaselineNutitionals.net. But that site is temporarily closed. To keep up-to-date on possible future availability, CLICK HERE.
How to Use
Take 3 capsules of Triple Jointed™ before bed on an empty stomach.
This dietary supplement can also be taken with food and at other times of the day but will be most effective if taken as instructed above. If you experience any discomfort, reduce to 1 capsule. Increase slowly.



Label